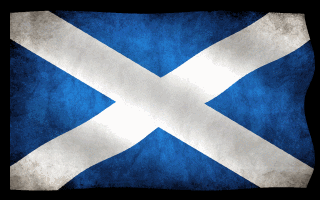 Happy (delayed) St. Andrews Day!
For those of you who don't know, let me tell you the 30th of November it is commemorated the Day of Scotland through its main Saint, the Saint from where I have the privilege to live and work in.
This weekend has been full of new experiences and I am still so overwhelmed by all of them that I don't know where to start! As a History professional (they say), let's stick with the chronological order to keep the story as true as possible. So, November 30th fell on a Thursday, and honestly, I don't remember doing anything else apart from staying in Skyping with two of my best friends back home. But the weekend announced itself promising and exciting.
On Friday the St Salvator's Chapel Choir (where one of my dear fencing friends is) organised a ceilidh, and I was looking forward to it. I skipped so many of those in these past two months and I wasn't going to let that happen again. So there I went but without a skirt, because I left them all at home. It is something to add to the suitcase when coming back after Christmas.
A ceilidh is probably one of the best and funniest experiences one could have in Scotland. It is pronounced /keili/, and basically consist of a dance gathering that does not require dance skills at all, but a wonderful attitude, energy and predisposition to laugh, stumble and step on other people's feet.
The experience was so worth a try. I joined some more friends there and we danced the night. Thank you for the lovely ladies organising every song and giving instructions in advance, because it could have been a real disaster leaving us on our own. This is something I really enjoy about the ceilidhs: you are not expected to know anything. There is always someone with more experience that teaches you, both before and on the go. And it is quite funny hearing people counting the steps and the jumps as they dance. I cannot remember all the names, but they were a few that caught my ear: "the flying Scotsman" and "the Highland barn" were the funniest.
Although sometimes you felt like the music will never end. Oh, the music. What to say about the music. It was live all the time! If there is enough wonder in a dancing night, add a live band to reach perfection. I loved the performances and the songs.
But that was not the only surprises the weekend held.
On Saturday, St. Andrews Day was celebrated with a massive street ceilidh in South Street, and it was packed. So many people showed up that you cannot have an idea of what it meant dancing (trying not to fall, to be precise) inside that human tide. But the laughter was worth the tumbles. Did we not laugh, my goodness. And the lady with the microphone, she was a show-woman. Hilarious and full of energy. The night added its magical touch at the beginning of the dance because it was drizzling. That couldn't stop us from jumping into the street, grabbing our partners by the waist and turn, and flip, and jump, and dance the night away.
This is not something I filmed, but we were there, somewhere!
After the massive cilidh, we parade the street towards East Sands, the beach, to see the fireworks. Again, the one below is not my video, but we were there!
The fireworks were amazingly beautiful, and they managed to recreate the flag of Scotland in the air! I couldn't find a picture or a video of that but it was breathtaking!
The night ended up with the four of us at Aikman's, possibly everyone's favourite pub in St. Andrews. And we laughed, and drank, and gossiped and laugh again.
These past two days have been precious gemstones in my memory. I will never forget them, for sure. Specially this Saturday, November 2nd, when the day was ridiculously perfect and everyone ended up being a hoarse werewolf.
And to finish the post completely, this is one of my favourite ceilidh songs. Enjoy and haahoi!